Entheogen Retreat Program 10/13
12sep6:00 pm6:00 pmEntheogen Retreat Program 10/13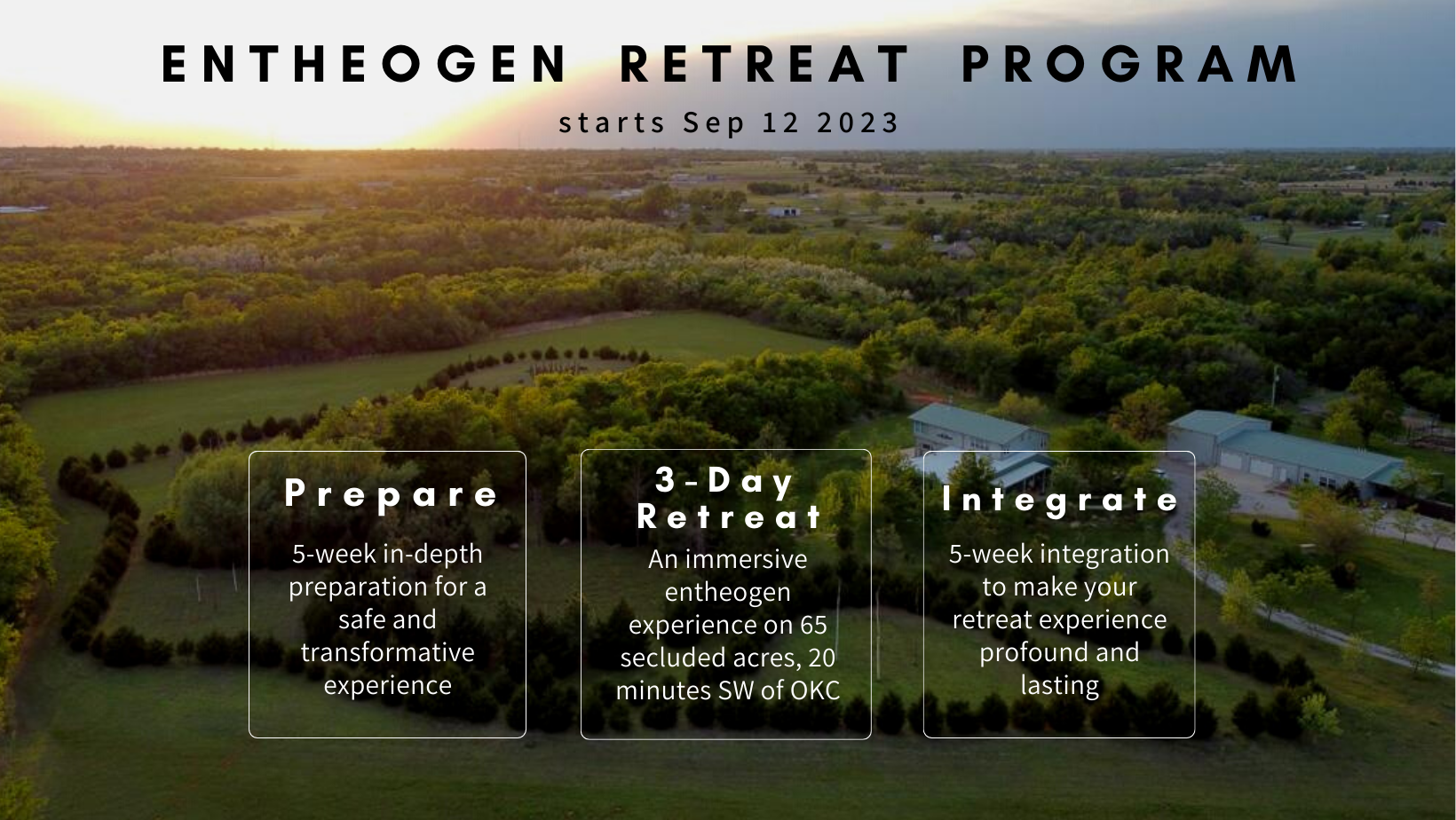 Event Details
Experience safe and life-changing results through our in-depth Entheogen Retreat Program, a multi-week journey to provide comprehensive preparation, a profound entheogen retreat, and post-ceremony support to understand and integrate your experience.
Prepare
5-week virtual
September 12th – October 12th, 2023
Screening form and Discovery Call to assess fit and identify contraindications

Experienced psychedelic coaches and ceremonial facilitators

In-depth preparation for a safe and transformative experience, getting into universal flow, being authentic, receiving your experience with love, and identifying a vision of yourself:

4 virtual group sessions (weekly each Tuesday evening)

Online videos

Pdf exercises & daily practices

One-on-one support

Participant-participant & participant-facilitator relationship building
Entheogen Experience
3-day retreat
Friday, October 13th, 5:00 pm – Sunday, October 15th, 2023, 2:00 pm 
Held on 65 beautiful, secluded acres 20 minutes SW of Oklahoma City

1 entheogen ceremony

Other ceremonies include sweat lodge, meditation, breathwork, smoke bath, flower bath, and integration

Small group, maximum 12 participants

Indoor communal sleeping accommodations (we sleep where we hold ceremony)

Most meals (we ask you to bring 1 communal meal for Friday night)

Preparation guidelines provided upon registration
Integrate
5-week virtual
October 16th – November 21st, 2023
4 virtual group sessions (weekly each Tuesday evening)

1 private, one-on-one session

Integration framework provided to make your retreat experience profound and lasting

Videos and pdf exercises to continue aligning with your authentic self

Ongoing connection with participants and facilitators
Energetic Exchange
$1275, single payment

$1455, payment plan:

$555 at time of registration

$450 by 9/19/2023

$450 by 10/10/2023

Space is limited so please let us know your intention of attending by registering and making payment in full or the first payment of $555.  

Non-refundable. Non-transferrable.
Next steps:
If you have not had a call with us, it's been over 6 months since your call, or your health/medications have changed, the first step is to have a discovery call to get approved to participate prior to registering. Please schedule your call here:

Book Discovery Call
For those that have had discovery or personal assessment calls with us within the last 6 months and have been approved for sacrament participation and your health has not changed, you may directly register for the retreat here:

Register for Entheogen Retreat Program
Space is limited and registration is required by Tuesday, September 5th, 2023.
Time

(Tuesday) 6:00 pm - 6:00 pm